The Daring Baker's October 2011 challenge was Povitica. Povitica is een traditioneel Oost Europees dessert brood, dat er net zo lekker uit ziet als dat het smaakt.
Dit was een heerlijk recept wat we via Jenni kregen, mede omdat we net onze eigen walnoten hadden verzameld en gedroogd. En meteen kwam het recept om uit te proberen. Jenni had research uitgevoerd en kwam erachter dat dit brood $25 dollars kostte in een winkel bij haar in de buurt. En dat voor 1 brood. Ze vond het een heerlijk brood, maar de prijs te hoog en heeft het recept gezocht en (gelukkig voor ons) gevonden.
Toen ik de Povotica gemaakt had, bleek het geen cake of een taart te zijn. Het is een soort brood met een zoete vulling. Het ziet er geweldig uit door het lijnenspel na het snijden. En het smaakt heerlijk.
Hij bleef dan ook niet lang in ons huis. Mijn oudste vond hem lekker (maar ja hij houdt van alle noten), mijn middelste vond hem heerlijk (en hij houdt niet van walnoten om zo te eten, maar wel in dit recept) en mijn jongste, tja die vindt bijna alles heerlijk en dus ook dit recept.
De Zondag dat ik de Povotica gemaakt had, kregen we visite en zij vonden de Povotica heerlijk. Ze vroegen onmiddellijk naar het recept en natuurlijk heb ik gezegd dat ze moesten wachten tot 27 oktober wanneer het recept voor de rest van de mensen wordt onthuld op onze eigen blogsite van de daring kitchen: www.thedaringkitchen.com, op deze site kun je ook foto's zien van de provotica die andere daring bakers collega's hebben gemaakt.
It's a good taste!
Recept
 Povotica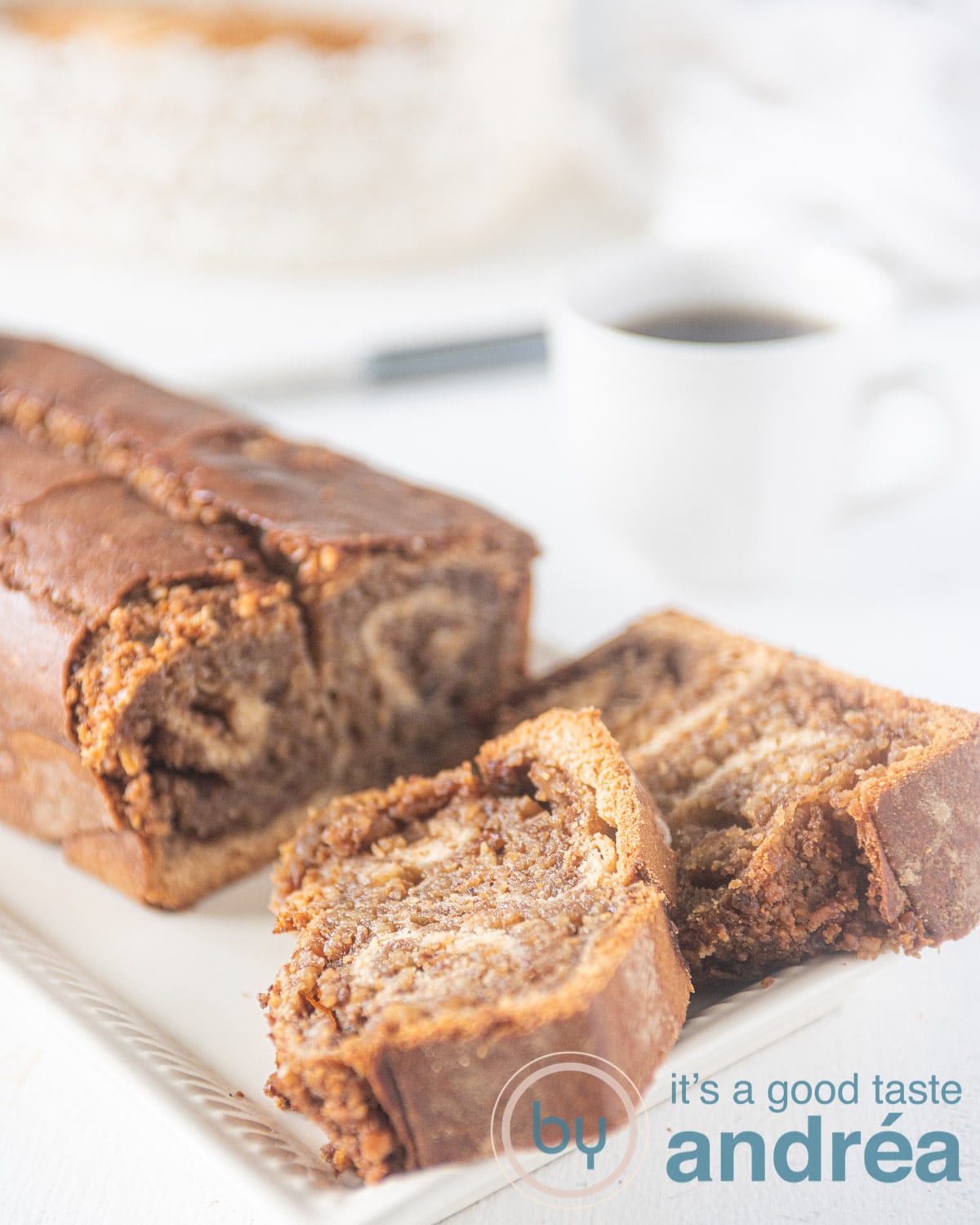 Heb je deze povotica gemaakt? Tag dan #byandreajanssen op Instagram of  twitter. Ik vind het namelijk superleuk om te weten dat mijn recepten gemaakt worden en ik ga zeker kijken. Je kunt natuurlijk ook altijd het recept delen op mijn Facebook pagina. En niet vergeten om het recept op Pinterest te bewaren om het eenvoudig terug te vinden Tot snel!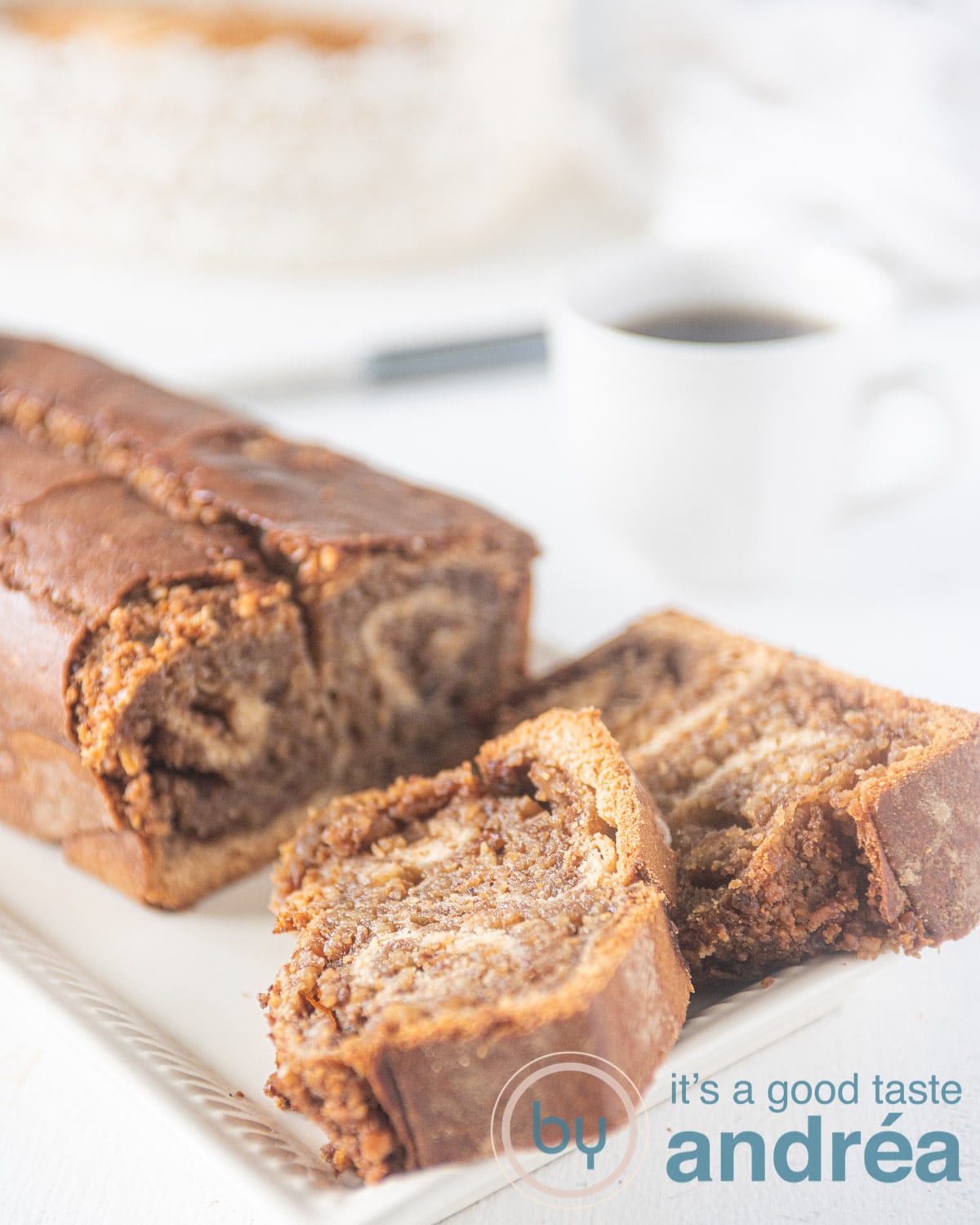 Povotica
The Daring Baker's October 2011 challenge was Povitica. Povitica is een traditioneel Oost Europees dessert brood, dat er net zo lekker uit ziet als dat het smaakt.
Ingrediënten
Gist:
½

theelepel

suiker

¼

theelepel

bloem

2

eetlepels

water

warm

1½

theelepel

gist

gedroogd
Deeg
120

ml

melk

vol

3

eetlepels

suiker

9

gram

zout

1

ei

maat L

2

eetlepels

boter

ongezouten, gesmolten

280

gram

bloem
Walnootvulling
280

gram

walnoten

fijn gemalen

60

ml

melk

vol

60

gram

boter

ongezouten

1

eigeel

geklopt, maat L

¼

theelepel

vanille-extract

115

gram

suiker

¼

theelepel

cacao

¼

theelepel

kaneel
Topping
2

eetlepels

koffie

koud en sterk

7

gram

suiker

boter

gesmolten
Instructies
Gist
Roer in een kom de suiker, bloem en het gist door het warme water. Laat dit 5 minuten staan (er moeten bellen gevormd zijn). Zijn er geen bellen gevormd dan is de gist niet meer actief en moet je een nieuw pakje gist gebruiken.
Bereiding deeg
Verhit de melk in een steelpan tot 82 graden Celsius, waarbij je constant roer zodat je geen velletje krijgt. (Bij 82 graden is er damp, maar kookt de melk niet).

Laat het een beetje afkoelen naar 43 graden Celsius.

In een grote kom meng je de melk, suiker en het zout.

Voeg het ei, gistmengsel, gesmolten boter en 70 gram bloem toe.

Meng dit goed en voeg vervolgens langzaam het restant bloem toe, waarbij je blijft mengen totdat het deeg van de kom loslaat.

Leg het deeg op je werkblad en kneed nogmaals verder totdat je een glad niet plakkend deeg hebt. Mocht het toch plakken dan voeg je nog wat bloem toe.

Doe het deeg in een met olie ingevette kom en trek hier een plastic folie over heen.

Laat het gedurende anderhalf uur rijzen op een warme plaats, zodat het deeg verdubbelt in omvang.
Vulling
Meng in een kom de walnoten, suiker, kaneel en cacao.

Verhit de melk en de boter totdat het kookt.

Giet de botermelk over het noten/suiker mengsel.

Voeg het ei en de vanille toe en meng alles goed. Laat bij kamertemperatuur staan totdat je het nodig hebt in dit recept. (Mocht het te dik worden, dan kun je een kleine hoeveelheid warme melk toevoegen.)
Rollen en samenvoegen deeg
Vet een cakeblik van 26 cm in met boter

Strooi een beetje bloem op je werkblad.

Leg het deeg op het werkblad en rol het deeg uit met de deegroller, totdat het ongeveer 26 cm bij 31 cm is.

Bestrijk dit met 1 tot 1½ theelepel gesmolten boter en stretch vervolgensmet je handen het deeg vanuit het midden naar buiten totdat het deeg dun is(af en toe moet je het deeg omhoog tillen zodat het niet blijft plakken). Het eindresultaat zou een dun deeg moeten zijn, waar je bijna doorheen kan kijken.

Bestrijk het deeg met de vulling zodat het egaal is.

Rol het deeg vanuit 1 zijde op tot het compleet opgerold is.

Leg het deeg in het cakeblik in een U vorm. Het stuk wat je overhoud plaats je in het midden (zie de foto)

Bestrijk het brood met een mengsel van de koffie en de suiker.

Leg een plastic over de cakevorm en laat 15 minuten rusten. Verhit ondertussen de oven voor op 180 graden Celsius.

Verwijder het plastic en bak gedurende 15 minuten.

Verlaag de temperatuur naar 150 graden Celsius en laat 45 minuten bakken.

Haal het brood uit de oven en bestrijk met de boer.

Laat het 20 - 30 minuten afkoelen op een rooster voordat je het snijdt.
Nutrition
Calories:
335
kcal
Carbohydrates:
32
g
Protein:
7
g
Fat:
21
g
Saturated Fat:
5
g
Cholesterol:
43
mg
Sodium:
341
mg
Potassium:
153
mg
Fiber:
2
g
Sugar:
12
g
Vitamin A:
195
IU
Vitamin C:
1
mg
Calcium:
49
mg
Iron:
2
mg
Wat gebruik ik in de
keuken?
Ik heb diverse keukengereedschappen gebruikt om dit recept te maken. Wil je meer weten over de gebruikte spullen (of gewoon meer informatie hoe je ze gebruikt en waar je op moet letten bij je aankoop) volg dan de link. Het is ook mogelijk om de spullen te bestellen.