Recept voor sticky toffee cake met dadels, een heerlijke cake die eigenlijk niet plakt, maar wel heerlijk smeuïg is. De zoete siroop trekt er heerlijk in
Voor de foodblogswap mocht ik koken van het blog tasteourjoy het blog waar Joyce en Irene hun passie voor eten delen met hun lezerspubliek. En zij houden van heel veel verschillende soorten eten: ontbijt, lunch, salades, diner, bijgerechten, soepjes, snack (nu kan ik nog wel even doorgaan), maar er komt heel veel op het blog aan bod. En omdat mijn man deze week jarig was besloot ik de sticky toffee cake.
Zoals Joyce al zegt in haar blog het secret ingredient zijn dadels, maar zeker ook de siroop die je naderhand erover heen giet. Conclusie van de gasten: een overheerlijke cake. Een aanrader dus.
It's a good taste!
Recept sticky toffee cake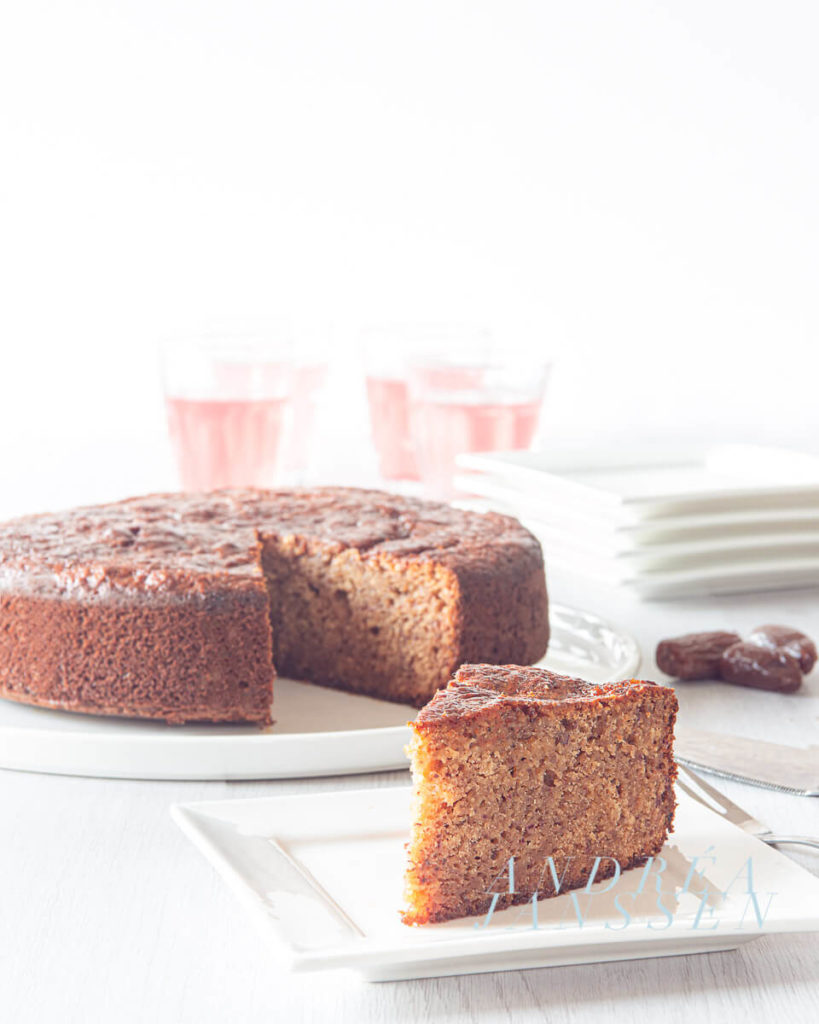 Heb je dit recept gemaakt? Tag dan #byandreajanssen op Instagram of  twitter. Ik vind het namelijk superleuk om te weten dat mijn recepten gemaakt worden en ik ga zeker kijken. Je kunt natuurlijk ook altijd het recept delen op mijn Facebook pagina. En niet vergeten om het recept op Pinterest te bewaren om het eenvoudig terug te vinden Tot snel!
Sticky toffee cake
Recept voor sticky toffee cake met dadels, een heerlijke cake die eigenlijk niet plakt, maar wel heerlijk smeuïg is. De zoete siroop trekt er heerlijk in
Equipment
hetelucht oven of onder en bovenwarmte oven (in dat geval verhoog je de in het recept aangegeven temperatuur met 20 graden Celsius)
Ingrediënten
Cake
90

gram

boter

kamertemperatuur

300

gram

bloem

275

gram

donkerbruine basterdsuiker

1

theelepel

vanille-extract

3

eetlepels

stroop

3

eieren

250

gram

dadels

zonder pit

16

gram

bakpoeder
Suikersiroop
100

gram

suiker

180

ml

water
Instructies
Cake
Verwarm de oven voor op 200 graden Celsius.

Beboter een springvorm van 24 cm en bestuif met bloem.

Knip een stuk bakpapier rond en leg die onderin de vorm.

Breng water aan de kook.

In de kom van de staafmixer of de keukenmachine doe je de dadels en 400 ml kokend water.

Pureer tot de dadels heel fijn zijn.

Klop in een kom met een mixer de boter met de bruine basterdsuiker en het vanille-extract tot het mooi luchtig is (ongeveer 3 minuten).

Voeg de stroop en de eieren één voor één toe (wacht met het toevoegen van het volgende ei tot het voorgaande is opgenomen) en mix nogmaals 2 minuten.

Zeef de bloem en bakpoeder boven het beslag en meng met een spatel er doorheen.

Giet de dadenpuree erbij en meng ook dat met een spatel door het beslag.

Schenk in de springvorm en bak de cake in 50 minuten in de oven gaar.

Laat hem na het bakken 5 minuten staan en haal hem dan uit de vorm.

Leg de cake op een bord (dat is praktisch voor de suikersiroop stap).
Suiker siroop
Verhit 100 gram suiker met 2 eetlepels water en laat de suiker kleuren tot hij een amber tint heeft.

Zet het vuur uit en voeg dan het water toe (giet van je af want het kan hete spetters geven).

Zet het vuur weer hoog aan en laat 5 minuten inkoken.

Prik ondertussen met een sate prikker wat gaatjes in de bovenkant, zodat de cake de siroop beter opneemt.

Met een kwastje strijk je de siroop over de bovenkant en zijkant van de cake.

Vervolgens giet je het restant siroop over de cake.

De siroop die er niet meteen intrekt wordt door opgevangen op het bord en trekt in de bodem, laat hem dus zeker een uurtje staan voor je hem gaat aansnijden!
Nutrition
Calories:
409
kcal
Carbohydrates:
80
g
Protein:
5
g
Fat:
9
g
Saturated Fat:
5
g
Cholesterol:
68
mg
Sodium:
95
mg
Potassium:
412
mg
Fiber:
3
g
Sugar:
53
g
Vitamin A:
296
IU
Vitamin C:
1
mg
Calcium:
116
mg
Iron:
2
mg