Deze bobotie is kruidig, fris en ruikt heerlijk. Een zalig herfstrecept voor als het weer wat kouder wordt.
Bobotie
Bobotie is een recept wat zijn oorsprong vindt in Zuid-Afrika. Maar wist je ook dat het waarschijnlijk een afgeleide is van een kerrieovenschotel recept wat in Indonesië werd gemaakt en wat door de VOC in Zuid-Afrika terecht is gekomen. Al is dat natuurlijk al zo lang geleden dat dat nooit met zekerheid te zeggen is. Vanuit Zuid-Afrika is het door heel Afrika verspreidt, maar ook naar Zuid Amerika.
Sinds 1951 is het in ieder geval door de Verenigde Naties erkent als traditioneel Zuid-Afrikaans gerecht en opgenomen in een internationaal receptenboek.
Smaak
Bobotie
Voor mij is Bobotie een heerlijk stoofgerecht voor in de herfst. De specerijen zijn verwarmend, de appels lekker zoet en het vlees en de eieren hartig.  En niet alleen de smaak is heerlijk, ook de geur is lekker. Wanneer je Bobotie maakt, zal je hele huis heerlijk gaan ruiken.
Ik ben niet van oorsprong Zuid-Afrikaans, noch mijn familie dus mijn bobotie recept is een mengeling van diverse recepten die ik op het web gevonden heb en die ik naar mijn eigen smaak heb aangepast.
Omdat...
je een heerlijk zoet en frisse smaak wilt, gebruik ik in dit recept rozijnen en  appel. Je kunt deze ook vervangen door bijvoorbeeld (gebakken) banaan, gedroogde abrikoos of dadels;
je van knapperigheid houdt, voeg je wat geroosterde walnoten of amandelen toe.
Serveertip: Bobotie is heerlijk met rijst en een salade.
Bereiding
Bobotie
In de ochtend
In de ochtendkun je het vlees met de kruiden al klaar maken en laten inkoken. Doe het over in de schaal en bewaar die tot je verder gaat in de koeling. Je hoeft alleen nog het eiermengsel erover te gieten en de Bobotie kan de oven in.

Bewaren
Bobotie
Bobotie eet je meteen op. Zo jammer om te bewaren!
It's a good taste!
Recept:
Bobotie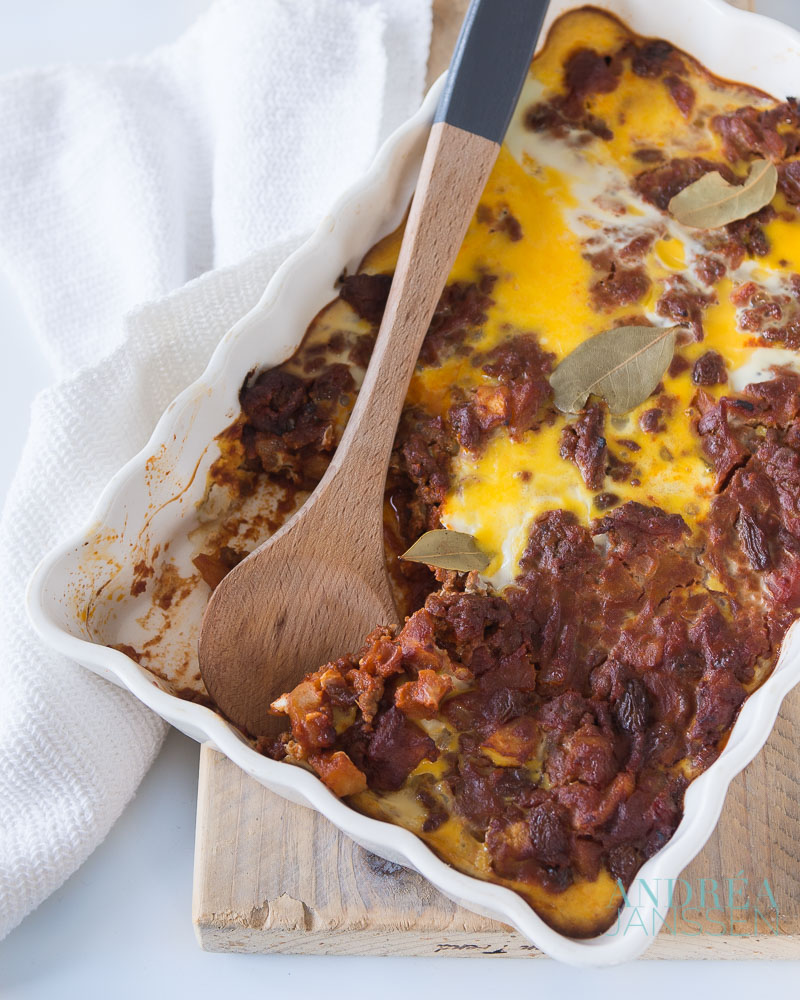 Heb je een lekker recept van mijn blog gemaakt? Deel je foto's via Instagram, twitter  of Facebook met #byAndreaJanssen. En wil je geen recept, nieuwtjes en winacties meer missen? Volg dan mijn Instagramen Facebookkanaal.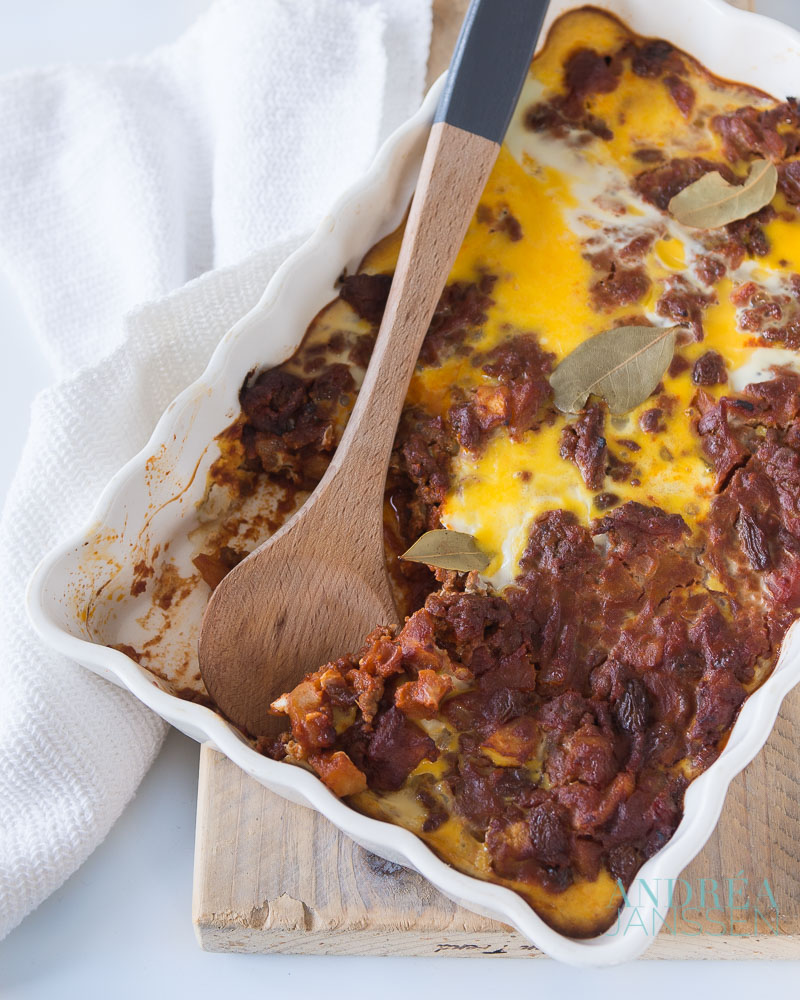 Bobotie
Deze bobotie is kruidig, fris en ruikt heerlijk. Een zalig herfstrecept voor als het weer wat kouder wordt.
This recipe is:
Equipment
hetelucht oven of onder en bovenwarmte oven (in dat geval verhoog je de in het recept aangegeven temperatuur met 20 graden Celsius)

ovenschaal
Ingrediënten
1

rode ui

olie

1

theelepel

paprika gemalen

1

theelepel

gember gemalen

snufje

cayennepeper

1

eetlepel

worcestershiresaus

1

theelepel

bruine suiker

200

gram

gepelde tomaten

2

appels

zuur, zoals granny smith

30

gram

tomatenpuree

1

eetlepels

azijn

2

gedroogde abrikozen

75

gram

rozijnen

500

gram

rundergehakt

30

gram

paneermeel

125

ml

melk

2

eieren

Maat L

3

laurierblaadjes
Instructies
Wel de rozijnen en de abrikozen 10 minuten in heet water. Laat ze uitlekken, afkoelen en snij de abrikozen in smalle reepjes.

Verwarm de oven voor op 180 graden Celsius.

Snipper de ui en fruit hem aan (ongeveer 3 minutein wat olie.

Schil ondertussen de appel en snij hem in kleine blokjes.

Voeg aan de pan paprika- en gemberpoeder, snufje cayennepeper, worcestershiresaus, bruine suiker, tomatenpuree, blokjes appel, abrikoos, rozijnen en de gepelde tomaten hier aan toe.

Breng aan de kook en sudder 3 tot 5 minuutjes.

Doe het gehakt bij het mengsel en bak dat rul.

Doe het paneermeel en 2 eetlepels melk bij het mengsel, draai het vuur laag en laat 30 minuten sudderen.

Proef en voeg naar smaak zout en peper toe.

Schep dit in een ovenvaste schaal.

Pak de eieren, klop ze los met de melk en schenk ze over het vleesmengsel, zodat alles goed bedekt is.

Leg de laurierblaadjes erop en schuif de schaal in de oven.

Bak 20 minuten tot het ei goed gestold is en serveer meteen

Lekker met rijst of aardappeltjes
Nutrition
Calories:
546
kcal
Carbohydrates:
45
g
Protein:
29
g
Fat:
29
g
Saturated Fat:
11
g
Cholesterol:
174
mg
Sodium:
319
mg
Potassium:
985
mg
Fiber:
6
g
Sugar:
18
g
Vitamin A:
708
IU
Vitamin C:
13
mg
Calcium:
121
mg
Iron:
5
mg