Een zoet dessert uit Griekenland, heerlijk gevuld met noten en specerijen. De notenvulling plaats je tussen filodeeg bladen. De baklava word op smaak gebracht met honing, kaneel, citroen en kruidnagel.
Een beetje laat gepost, maar wel op tijd ingediend op het forum: de uitdaging van juni: baklava. Nu is een goede baklava al een uitdaging op zich, maar het kan nog uitdagender: we moesten zelf het filodeeg bereiden. Met dank aan Erika van Erika's Edibles die dit had bedacht voor ons.
Persoonlijk vind ik de baklava die ik tot nu toe gegeten heb altijd net iets te zoet. Dus ik ben hem gaan bereiden met enige armslag of ik het ook wel lekker zou vinden. En omdat in mijn familie nogal graag zoetigheid wordt gegeten (en dan bedoel ik niet alleen mijn gezin, maar echt mijn hele familie) en wij familie weekend hadden, leek me dit een passende combinatie.
Omdat ik verder weinig ervaring heb met baklava heb ik, op de keuze van de noten na, het recept aangehouden.
Ik ben een beetje afgeweken met de notenverdeling, omdat ik in mijn eigen tuin walnoten heb en daar dus ook een grote voorraad van heb.
Je kan in ieder geval zeggen dat het een erg authentiek recept is geworden. Er zijn werkelijk inzendingen geweest met pareltjes van baklava porties. Terwijl bij mijn versie goed te zien is dat filodeeg heel bewerkelijk is. En de smaak was heerlijk, niet te zoet en de noten kon je goed proeven. Mijn nicht heeft de porties die nog over waren meegenomen om thuis na te genieten.
It's a good taste!
Recept
Baklava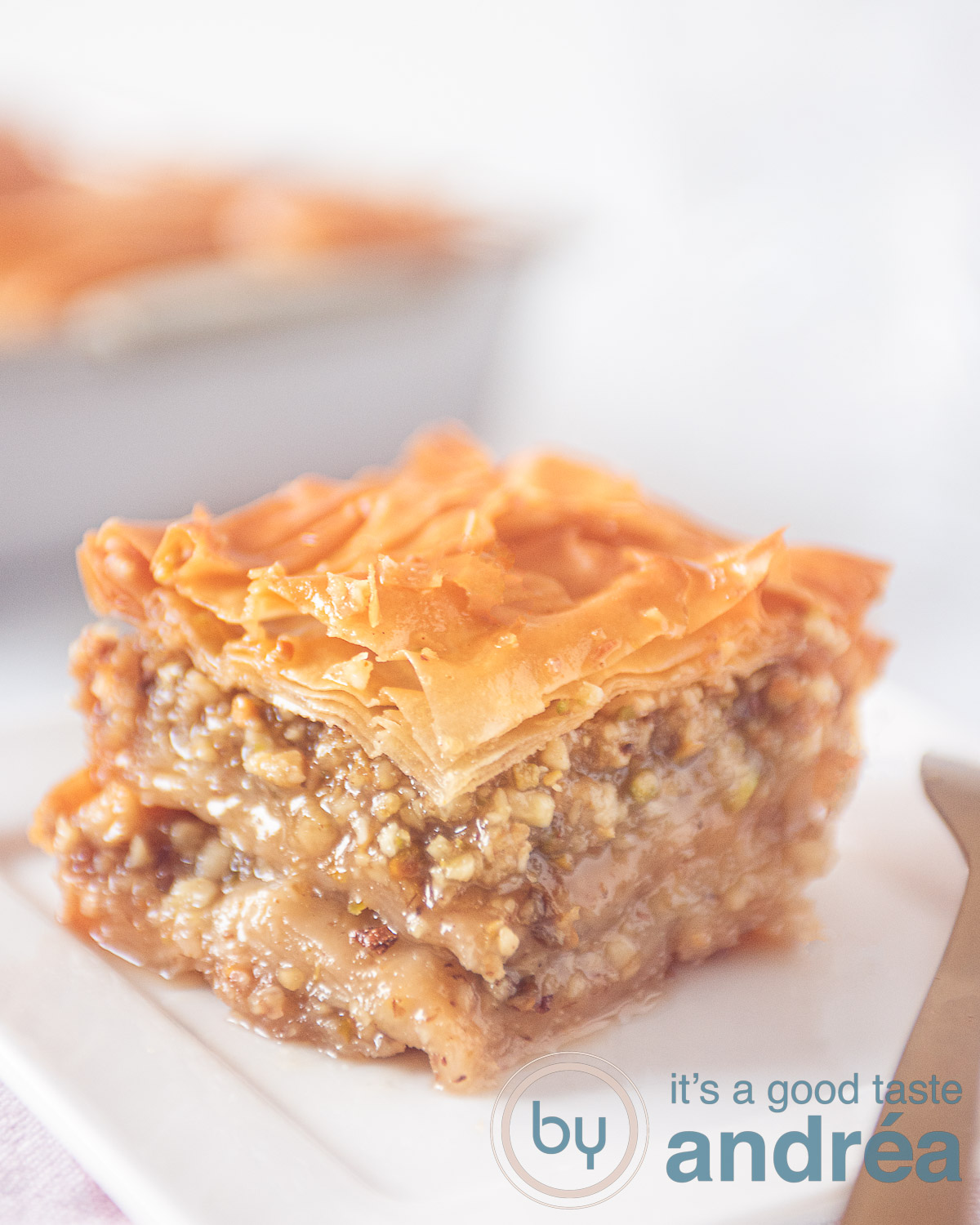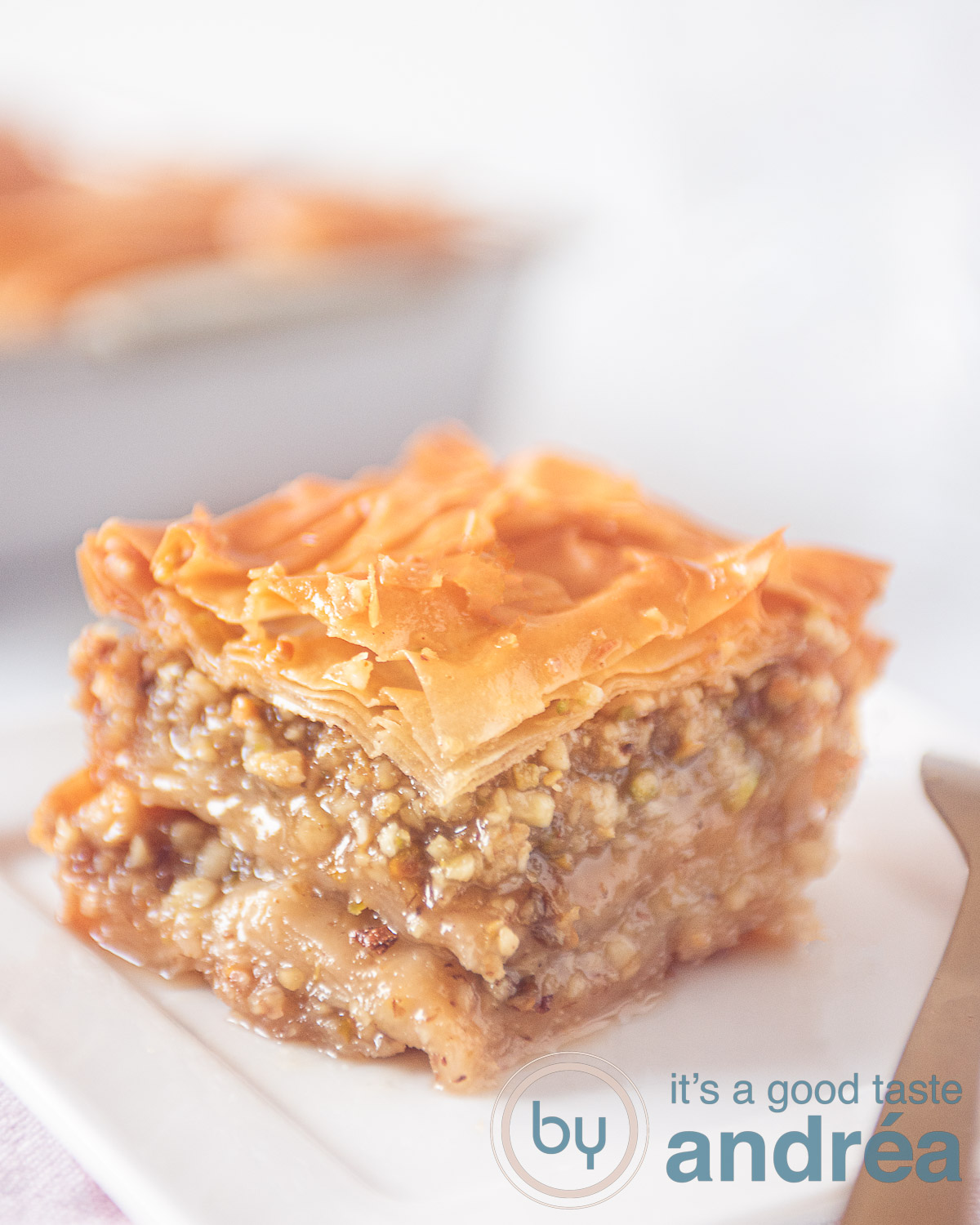 Baklava
Een zoet dessert uit Griekenland, heerlijk gevuld met noten en specerijen. De notenvulling plaats je tussen filodeeg bladen. De baklava word op smaak gebracht met honing, kaneel, citroen en kruidnagel.
This recipe is:
Equipment
Mixer met deeghaken of keukenmachine met deeghaken

Kwastje

Plastic folie

Bakblik van 23 x 23 cm

hetelucht oven of onder en bovenwarmte oven (in dat geval verhoog je de in het recept aangegeven temperatuur met 20 graden Celsius)

Blender of keukenmachine met mes
Ingrediënten
Filodeeg
370

gram

bloem

¼

theelepel

zout

210

mL

water

4

eetlepels

zonnebloemolie

1

theelepel

appelcider azijn
Siroop
300

mL

honing

300

mL

water

280

gram

suiker

1

stokje

kaneel

5

cm

citroenschil

2

kruidnagelen
Vulling
1

stokje

kaneel

in 3 stukjes gebroken

¼

theelepel

piment

170

gram

amandelen

geblancheerd

200

gram

walnoten

100

gram

pistachenoten

150

gram

suiker

120

gram

boter

gesmolten
Instructies
Filodeeg
Meng in een kom het zout met de bloem.

Meng in een tweede schaal de olie, water en azijn.

Gebruik een (hand)mixer met deeghaken en voeg aan de kom met het bloemmengsel langzaam het olie/water/azijn mengsel toe terwijl je op lage snelheid mixt.

Controleer het deeg en als het te droog is voeg je wat water toe. Mix ongeveer 10 minuten.

Haal het uit de kom en kneed het deeg met de hand ongeveer nog 2 minuten. Vervolgens gooi je het deeg een paar keer hard op je werkbank.

Vorm van het deeg een bal en smeer deze lichtjes in met olie.

Dek het deeg af met plastic folie en laat anderhalf uur rusten.

Zorg dat je geen sieraden of andere uitsteeksels aan hebt bij deze stap. Pak een stukje deeg ter grootte van een golfbal.

De rest van het deeg houdt je afgedekt zodat het niet uitdroogt. Zorg dat het werkvlak, je deegroller en je handen met bloem zijn bedekt. Houdt dit zo, je kunt aan dit deeg nooit teveel bloem toevoegen. Begin te rollen op je werkvlak.

Draai het deeg een kwartslag en rol wederom heen en weer. Ga zo door totdat je het met de roller niet dunner krijgt.

Rol het deeg over je deegroller en til het omhoog. Leg het over je handen en (hetzelfde als bij pizzadeeg), rek je het voorzichtig nog verder uit. Ga door tot het doorzichtig wordt. Het zal niet zo dun worden als het deeg dat je in de winkel koopt, maar ja wij zijn dan ook geen machines.

Leg het deeg terzijde in een bebloemde schaal, strooi er nog wat extra bloem op en ga verder met het volgende stukje deeg.
Siroop
Maak de siroop wanneer je de baklava in de oven zet. Voor een goede baklava is het van belang dat OF de siroop OF de baklava gloeiend is. In dit recept is gekozen voor een gloeiendhete baklava en is de siroop iets afgekoeld.

Doe de ingrediënten voor de siroop in een steelpan en breng aan de kook.

Roer tot de suiker is opgelost en laat 10 minuten koken.

Zeef de siroop en zet het terzijde.
Samenstellen baklava
Verwarm de oven voor op 180 graden Celsius.

Meng de noten, suiker en kruiden in een keukenmachine met messen en pulseer totdat je fijngemalen noten hebt. Wanneer je geen keukenmachine hebt probeer dan dit mengsel met een mes zo fijn mogelijk te snijden.

Snij het filodeeg zodat je vellen van 20 bij 20 cm overhoudt.

Smeer de bodem van het blik in met boter en leg een laag filodeeg erop.

Smeer deze in met boter en leg er wederom een laag op. Herhaal dit 5 x.

Bestrooi dit met ⅓ van het notenmengsel.

Leg hierop een filodeeg en smeer deze in met boter. Herhaal deze stap 4 keer. Strooi hierop ⅓ van het notenmengsel op. Leg hierop een filodeeg en smeer deze in met boter en herhaal dit 5 keer.

Strooi het restant noten hierop.

Leg op de laatste laag noten het filodeeg en smeer deze in met boter. Herhaal deze stap 5 keer.

Snij met een scherp mes de baklava 3 keer verticaal, vervolgens 3 keer horizontaal en de rechthoeken kun je ook nog schuin doorsnijden.

Smeer het laatste vel filodeeg royaal in met boter en zet de schaal in de oven gedurende 30 minuten.

Haal de baklava uit de oven en snij nogmaals met het mes over de snijnaden heen. Zet het weer terug in de oven gedurende 30 minuten. Wanneer de bovenkant goudbruin is, is de baklava klaar.

Haal de baklava uit de oven en giet de gekookte, nog warme siroop over de bovenzijde, waarbij je over de hele bovenkant giet. Het lijkt een grote hoeveelheid siroop, maar gedurende de nacht trekt het in de baklava.

Zet de baklava gedurende een nacht weg bij kamertemperatuur.
Nutrition
Calories:
640
kcal
Carbohydrates:
88
g
Protein:
11
g
Fat:
30
g
Saturated Fat:
7
g
Cholesterol:
22
mg
Sodium:
84
mg
Potassium:
305
mg
Fiber:
5
g
Sugar:
58
g
Vitamin A:
284
IU
Vitamin C:
1
mg
Calcium:
71
mg
Iron:
3
mg
Wat gebruik ik in de
keuken?
Ik heb diverse keukengereedschappen gebruikt om dit recept te maken. Wil je meer weten over de gebruikte spullen (of gewoon meer informatie hoe je ze gebruikt en waar je op moet letten bij je aankoop) volg dan de link. Het is ook mogelijk om de spullen te bestellen.